Finnish Sauna Builders 4' x 6' x 7' Pre-Cut Sauna Kit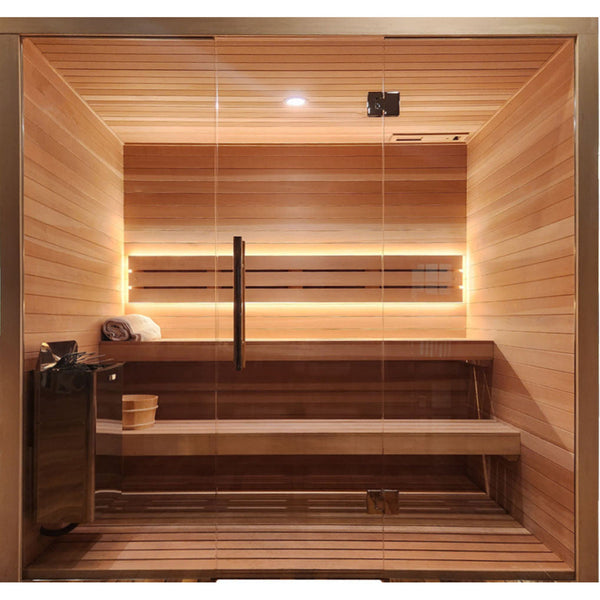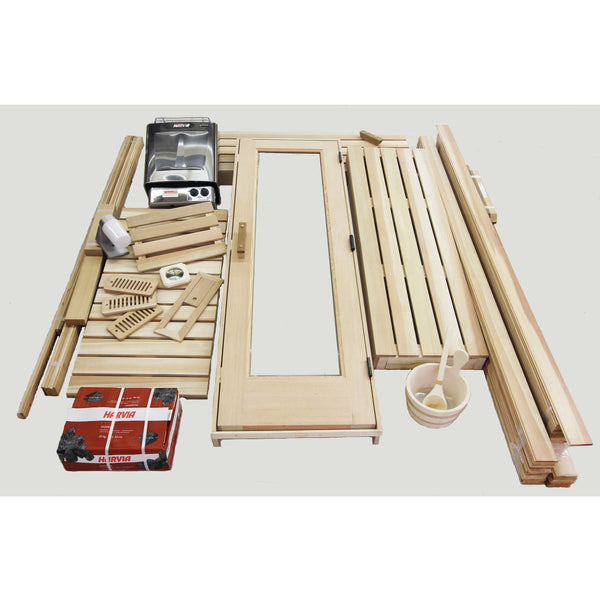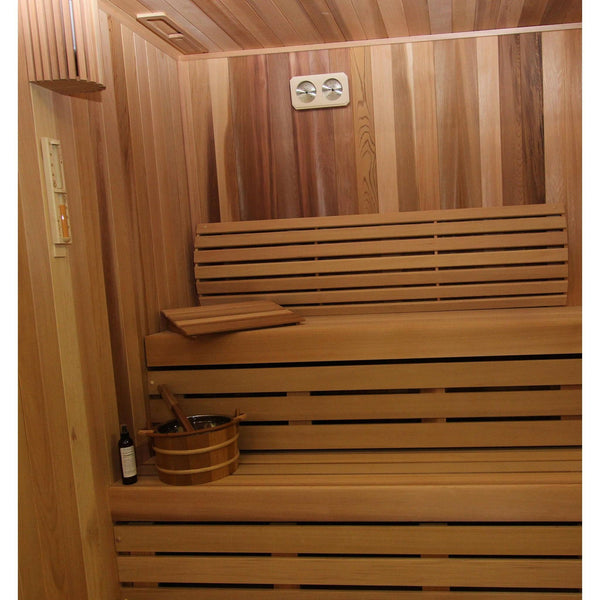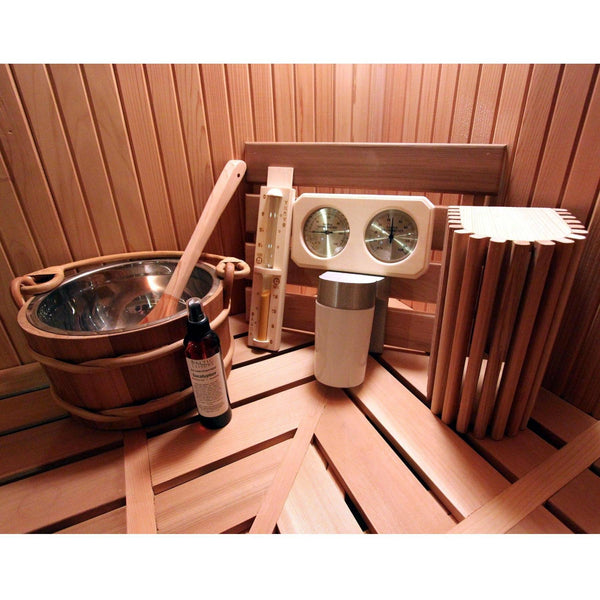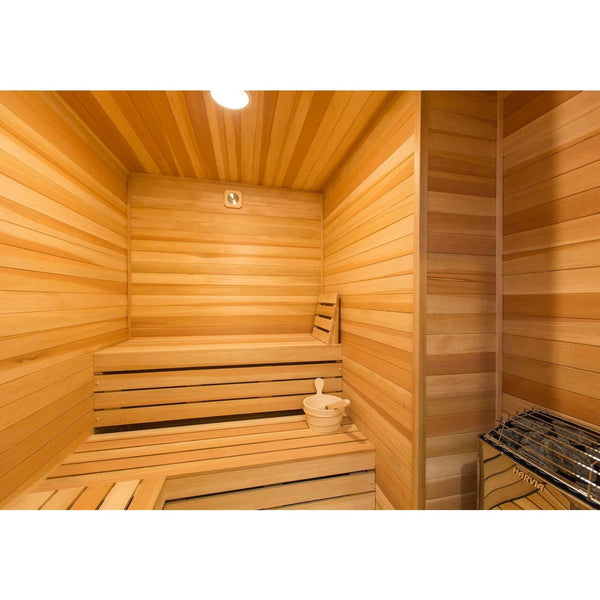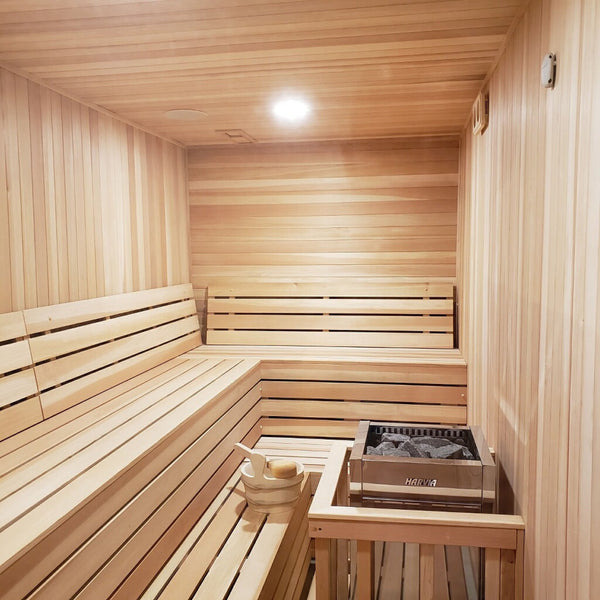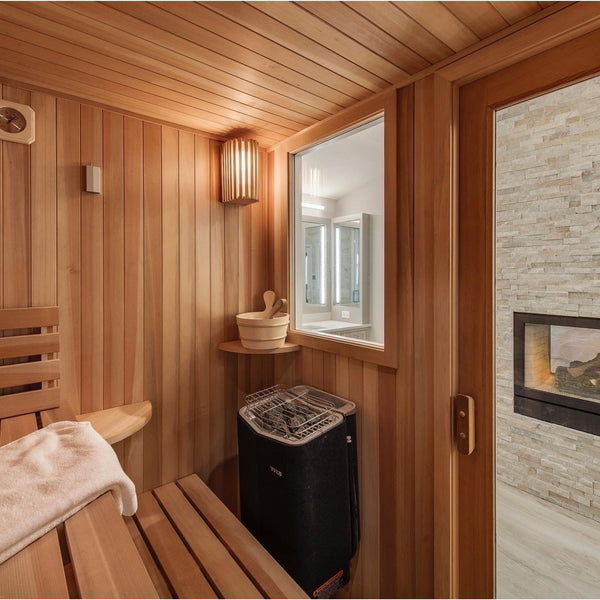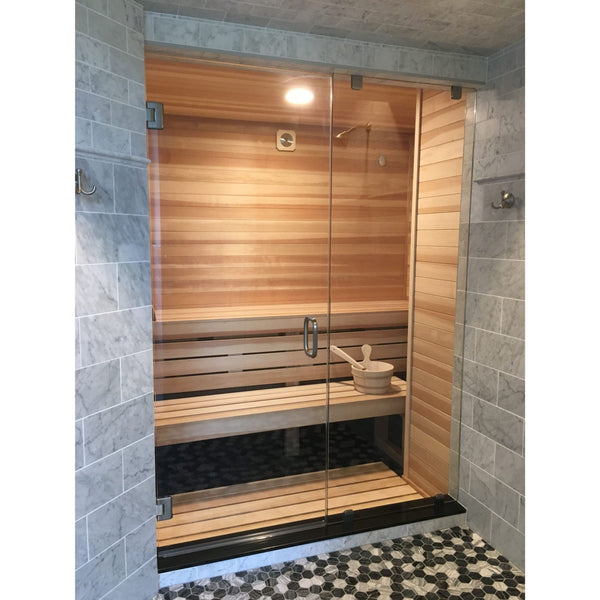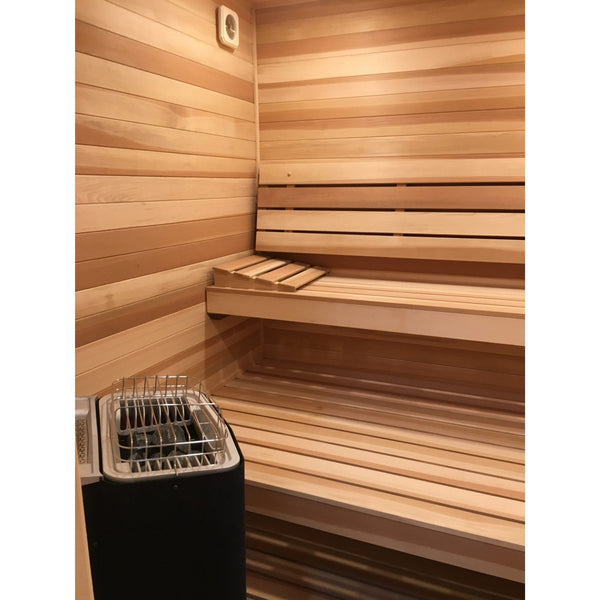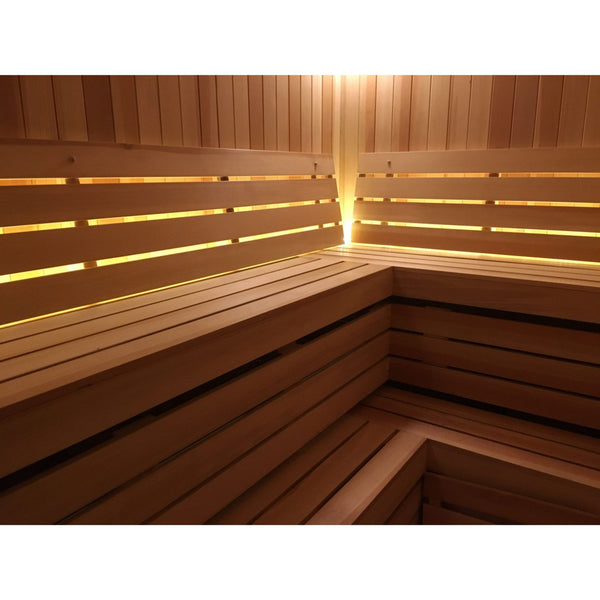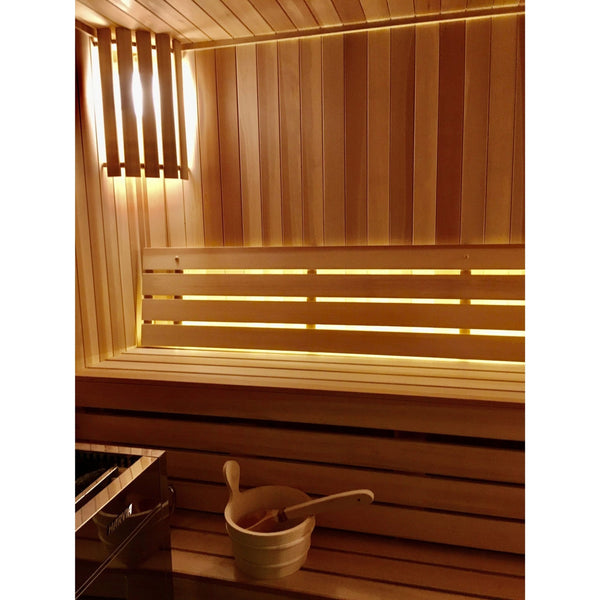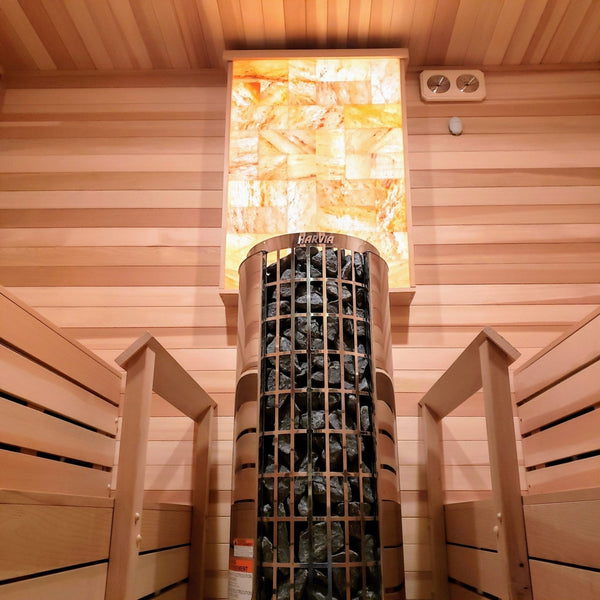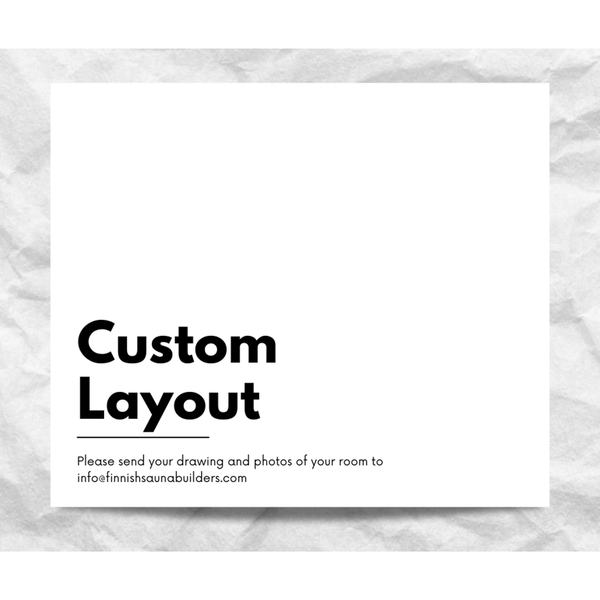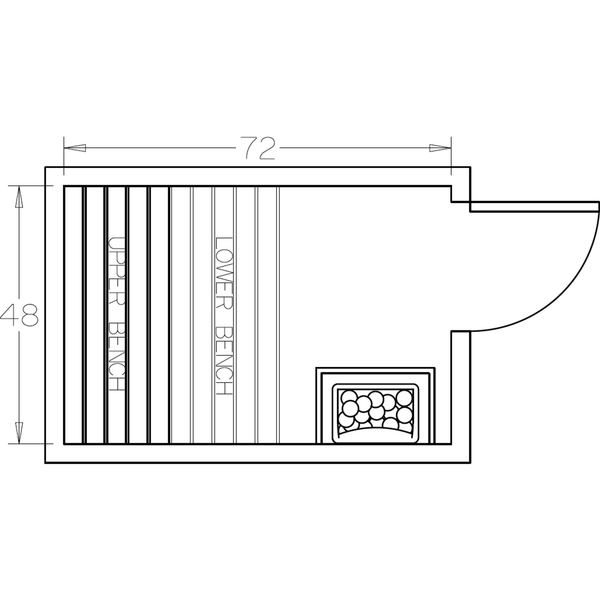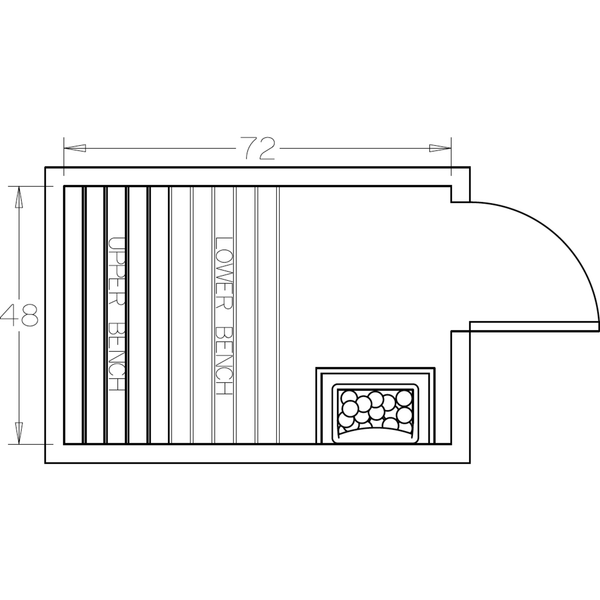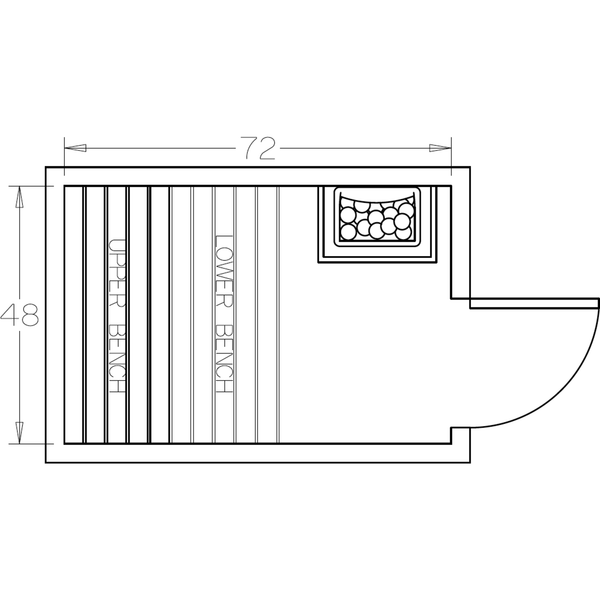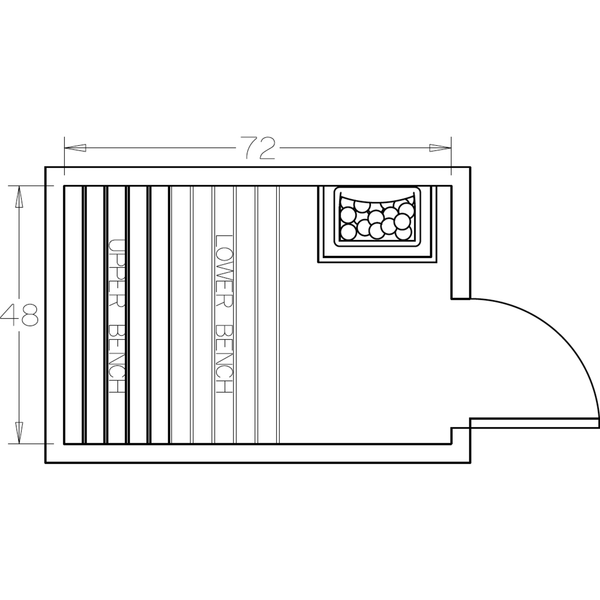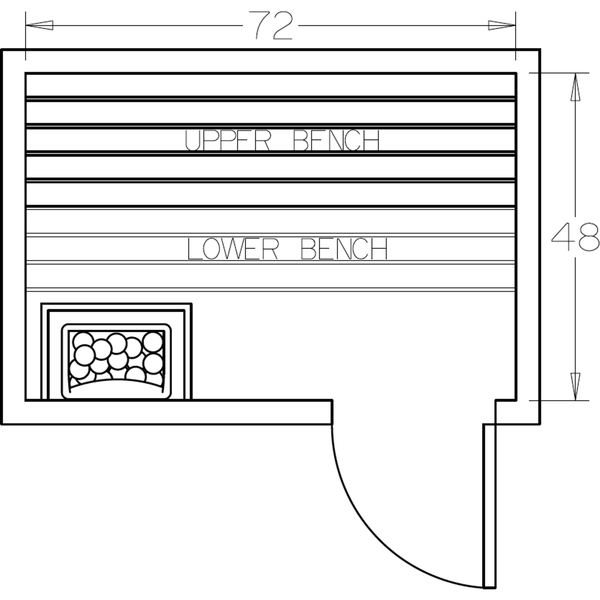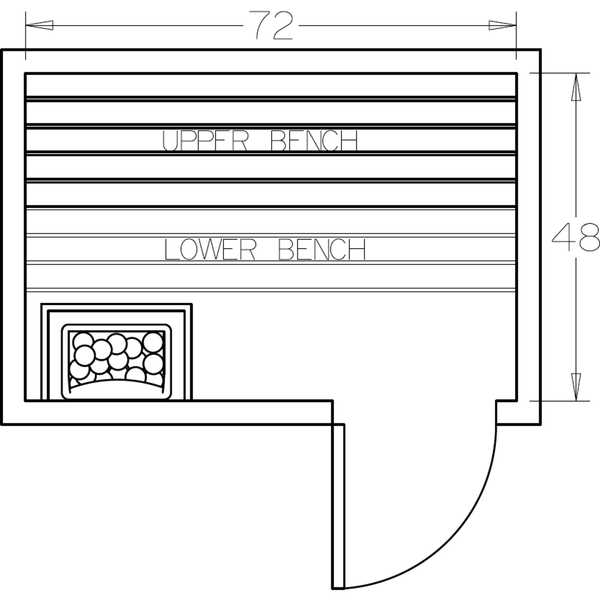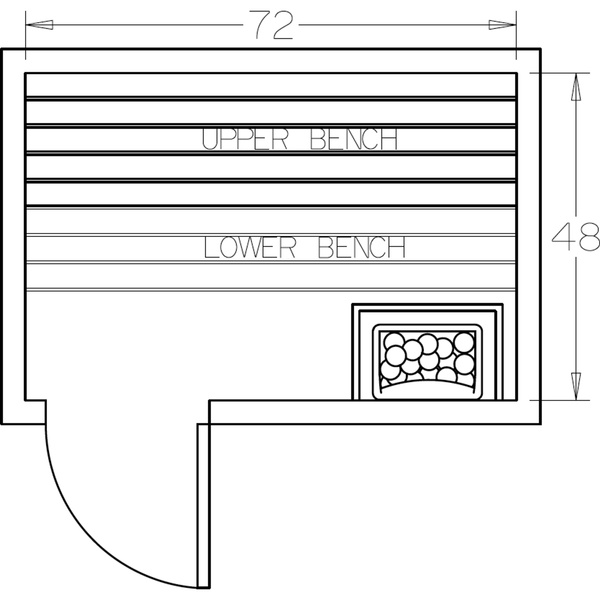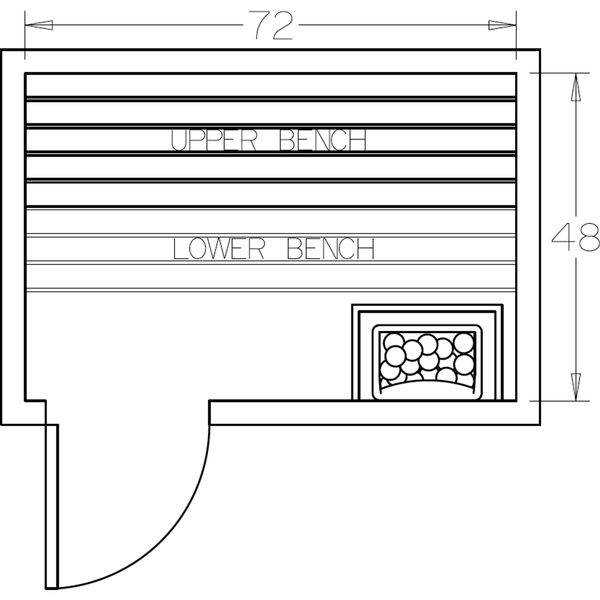 *A standard door will accompany your sauna shipment, even though some photos may show a glass wall.
Description 
The Finnish Sauna Builders Pre-Cut Sauna Package is the complete sauna kit needed to create the perfect sauna room.  The Pre-Cut Sauna Package is created for the Do-It-Yourselfer or contractor.  

The sauna kit includes all of the interior cedar components listed below.  Each room is custom made and is uniquely created to fit the desired space. You must provide the framing, insulation, wiring, and exterior wall covering.
It's very easy to build your own sauna room when you buy a Finnish Sauna Builders Pre-Cut Sauna Package.  Now, anyone can build their own sauna room, confident that they are receiving the very best Western Red Cedar. Cedar is the perfect wood to build a sauna room.  Cedar is strong, lightweight, will not warp or shrink, and is more comfortable and cool to the touch.
Our DIY sauna kits are the perfect sauna room for a home or commercial fitness facility. We offer the very lowest wholesale prices with the best quality cedar wood material.
Contact your Finnish Sauna Builders Specialist to help you create the perfect sauna room for you and your family.
Information
All Finnish Sauna Room Packages include the following:
Foil Vapor Barrier

1×4 T&G Clear Western Red Cedar, grade 'A' cedar lining for walls & ceiling

All cedar t&g wallboards are 7' in length for verticle installation

Clear 1x4 grade 'A' cedar for benches and supports (20")

Corner moldings for walls, ceiling, and baseboards

Douglas Fir Sauna Door 24"x80" with a 16"x67" glass panel, pre-hung

Wood sauna door handles with door trim
Cedar duckboard flooring in walk area of the floor 

 

Cedar lower and upper Vents Grills

Bucket with Liner and Ladle
Thermometer
Headrest

Marine-grade, wall mount vapor proof sauna light 

           

Detailed sauna installation instructions
Sauna Heater not included.
Choose your freight option when ordering your sauna room package.
FAQ's - Sauna Construction
How is a Sauna different from other baths?
A Sauna must have a special, insulated room built of softwood; a heater which is capable of heating the room to about 180° F; and stones which get hot enough to produce a good steam when water is poured over them. Anything else is not a Sauna. Also, a Sauna is not a steam bath. Steam is 100% humidity while a Sauna is relatively dry at about 20-25% average humidity (when water is used).
Are rocks necessary in a Sauna?
Rocks are necessary to store heat and to produce steam when water is poured over them. Rocks should be placed all around the heater elements and should completely cover them. In this way the stones will filter the heat from the heater elements for a softer more comfortable bathing experience and provide better steam. Rocks which sit on top of a grill or basket will not get hot enough to produce a good steam and the bather will experience a harsher heat.
What is the difference between a wet and a dry Sauna?
They are the same thing. A Sauna can be used wet or dry. When someone says "wet" they mean that water can be poured over the stones in the heater. If water cannot be poured over hot stones it is not a Sauna. The Sauna bather controls the humidity in the room by the amount of water used. Water can create a more relaxing atmosphere and it aids in perspiration and deep cleansing of the pores. Although use of water is most common, some like to use the Sauna without any water at all for a very dry climate (humidity level 10-15%). Sauna heat and humidity are flexible so it is up to the bather as to how they want to use the Sauna to suit their needs.

Why must a Sauna be built of softwood?
The humidity must be absorbed into the wood to keep the atmosphere relatively dry. Softwoods have this property and are cool to the touch. Hardwoods absorb heat and become too hot to sit or lean against. The wood must be kiln dried to within 9-11% moisture content to prevent shrinkage and warping.

Should a Sauna be insulated?
Yes, insulation prevents heat loss. We recommend R-11 or R-13 fiberglass insulation. The insulation may be standard paper faced. All the walls and the ceiling should be insulated.

How should a Sauna be cleaned?
Damp mop the floor as needed. The benches can be cleaned with a mild soap applied with a wet cloth. To remove perspiration stains on the wall boards light sanding with 120 grit sandpaper may be required periodically. To keep your room looking at its best always lay or sit on towels.

How high should the ceiling be?
The ceiling height should be no higher than 7 ft., as it is important to bring the heat down to where the bathers can use it at bench level. It is also more economical to heat, and the Sauna will heat faster.

Should a Sauna have vents?
We recommend one lower vent, starting at about 4" off the floor, somewhere near the Sauna heater, and a second vent on any other wall about 6" below the ceiling. The upper vent may also be put in the ceiling if there is adequate air flow. Venting is not a safety issue; vents only make it more comfortable for the bather. Vents are merely a cutout in the wall or a passageway from the Sauna to an existing room adjoining the Sauna. No ductwork is required. We recommend venting from the Sauna to an area inside the house. The minimal heat that escapes into the house from the vents will not damage your drywall, wallpaper, paint, etc. You may vent to outside air if your desire, but keep in mind that cold air from outside may increase your Sauna heat-up time. The rough opening for the vents we provide in our packages is 4"x10".