Sauna Heater Sizing Tool
Using our Sauna Heater Sizing Tool
Our Sauna Heater Sizing Tool is a simple form that requires you to enter the length, width, and height of your sauna, along with any glass dimensions. The tool then calculates the adjusted cubic feet of your sauna and recommends the appropriate heater size for your space.
Our sauna experts are also available to provide guidance and answer any questions you may have about sauna heater sizing or building a sauna. You can reach us through our website's chat or by calling our customer service line.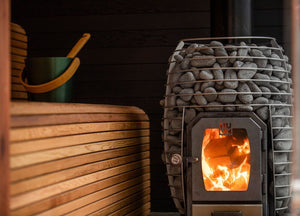 THE IMPORTANCE OF PROPER SAUNA HEATER SIZING
When it comes to building a sauna, proper sizing of the sauna heater is essential for a safe and comfortable experience. Choosing the correct size of the heater ensures that the sauna heats up quickly, maintains an even temperature, and operates efficiently.

Using a heater that is too small for your sauna can result in a long heat-up time, uneven heating, and higher energy costs. On the other hand, using a heater that is too large can lead to overheating, which can be dangerous and uncomfortable. Additionally, an oversized heater will consume more energy and may shorten the lifespan of the heater itself.

That's why it's important to calculate the appropriate sauna heater size for your specific sauna. Our Sauna Heater Sizing Tool, available on our website, makes it easy to determine the correct heater size for your sauna.