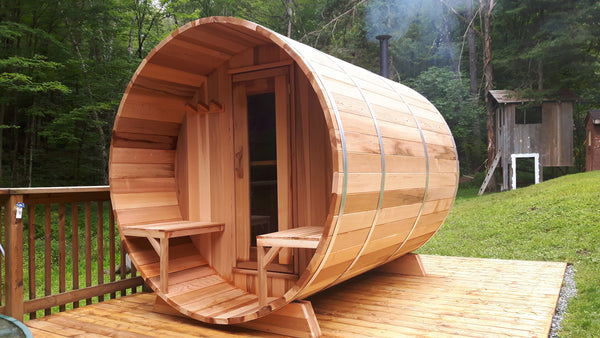 Barrel Saunas
Barrel saunas, a rising trend in wellness, extend your home relaxation to nature's embrace. Embodying a blend of tranquility and connection, they offer a distinct escape. Enhancing well-being, these saunas align with the outdoors, enriching your space with their unique benefits—an ideal addition to any home.
THE BENEFITS OF BARREL SAUNAS
Imagine a cozy nook where barrel saunas blend with nature's beauty, creating a haven of well-being. Stepping into the sauna, you're surrounded by the gentle sounds of nature—the leaves rustling, the air crisp, and a soft breeze. It's like a soothing melody that helps you unwind.
But there's more to it than just relaxation. Barrel saunas are great for your body too. They boost blood flow and keep your heart healthy. The sauna's warmth also helps your muscles recover and eases any soreness after a hard day of activity.
Your mind finds peace here as well. With time, you start feeling happier and less stressed. This is because of endorphins, which are natural stress-busters. In the sauna, you can also quiet your mind and take calming breaths.
Yet, barrel saunas offer even more. They're a place for friends to gather. This is where you can chat, tell stories, and enjoy each other's company. In a world that's always in a rush, this spot lets you build connections and feel part of a group.
To sum up, barrel saunas let you enjoy nature's goodness and recharge your body, mind, and friendships. They're a special place where nature's rhythm and your well-being come together for something truly wonderful.
HOW TO BUY A BARREL SAUNA
Wanting to bring the serenity of a barrel sauna to your space? Look no further than Finnish Sauna Builders. Our collection boasts top-quality options, crafted to withstand nature's whims. From durable materials to weather resilience, our barrel saunas thrive in various conditions, offering a sanctuary of relaxation.
With a variety of sizes and styles, finding your ideal barrel sauna is a breeze. Your choice of heating—electric or wood-fired—adds a touch of personal preference. As you explore, remember to consider your space dimensions to ensure a seamless fit.
Finnish Sauna Builders is your gateway to a rejuvenating experience. Whether you're drawn to the classic charm of wood-fired heat or prefer the modern convenience of electric, we cater to all needs. Elevate your sauna with our array of accessories, including benches and heaters.
Ready to delve into the world of barrel saunas but still have questions? Connect with us today! We're here to guide you toward your perfect outdoor oasis.