Almost Heaven Vienna 4+1 Canopy Barrel Sauna (2-Person)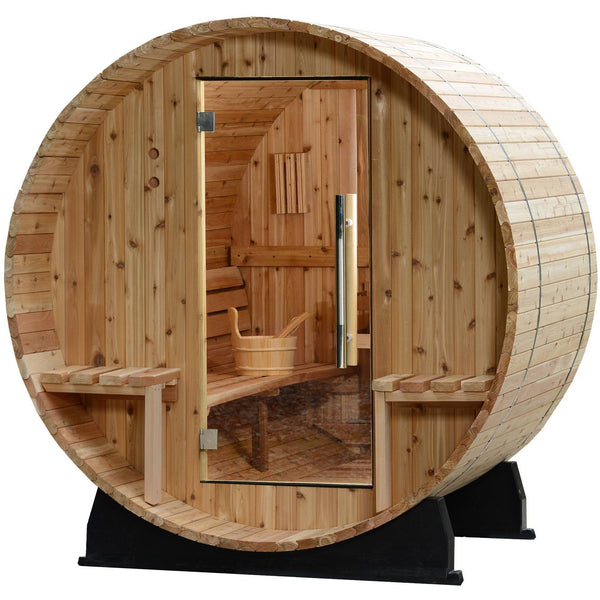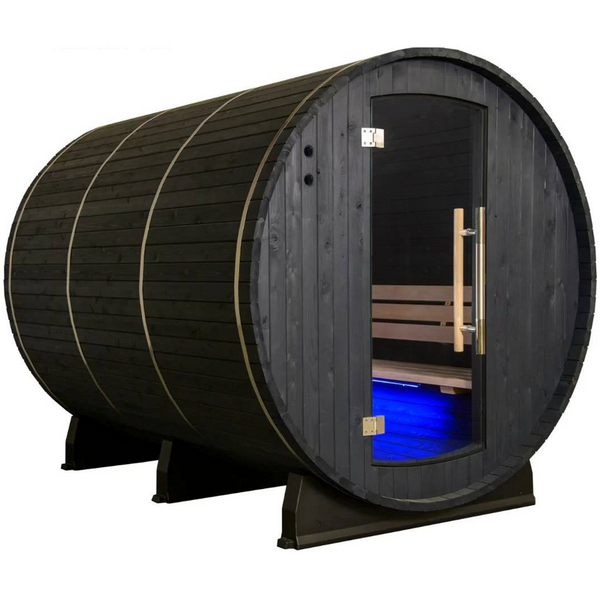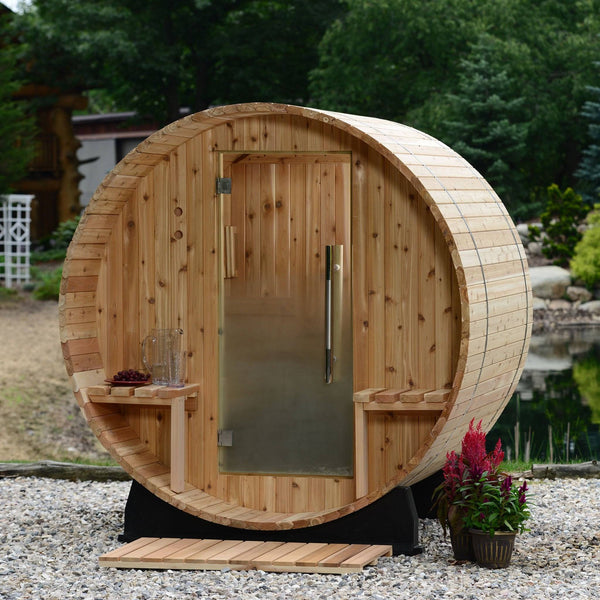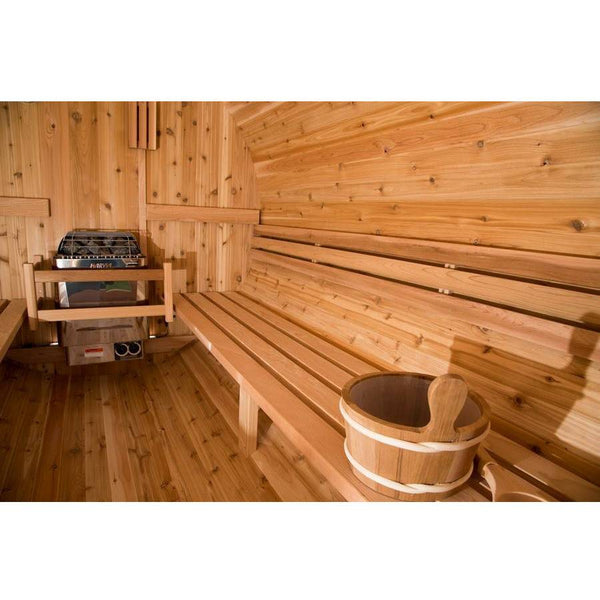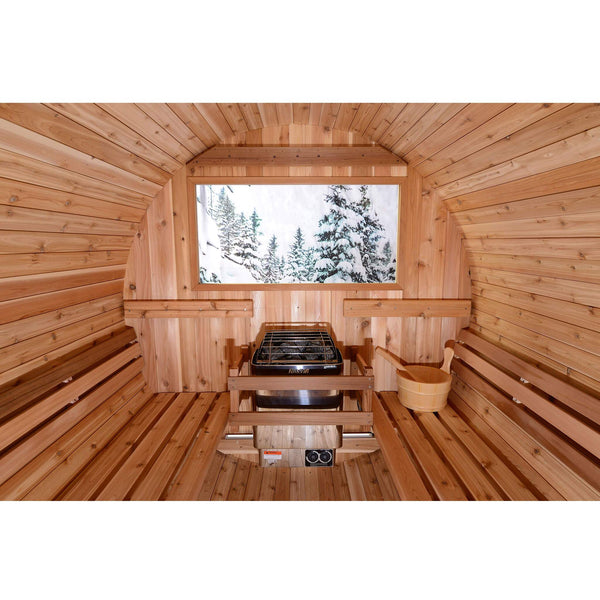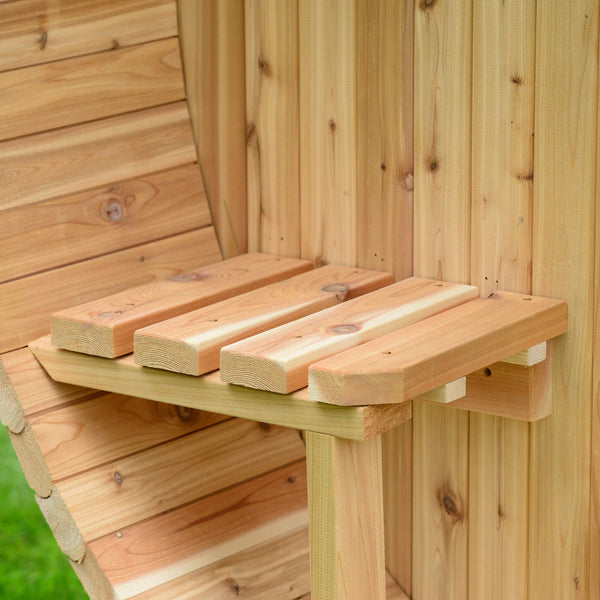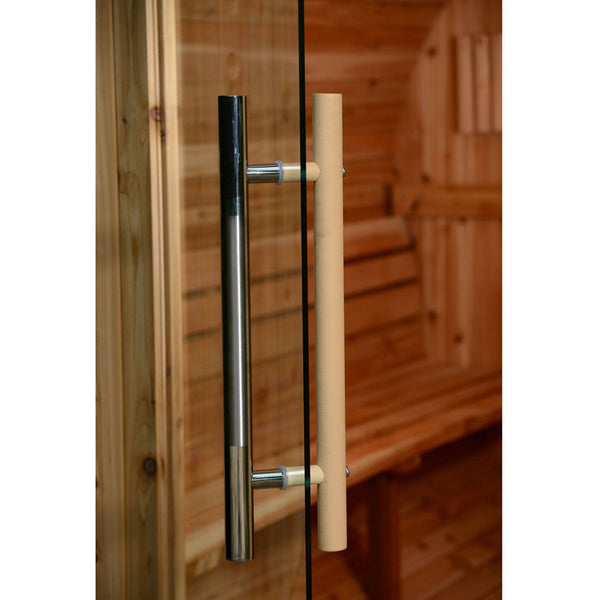 Aesthetically pleasing and incredibly efficient, the Vienna barrel sauna is compact and powerful.
The sauna measures 6'x5', with one foot of that space delegated to the exterior benches. It fits up to two people, who can enjoy temperatures of 195ºF inside the sauna thanks to the optional Harvia 4.5kW electric heater.
Anyone can utilize the exterior benches that frame the door to cool off after the sauna, or to store sauna essentials: towels, water, and more.
Delay the sauna start time up to eight hours using the timer on the heater, and get ready for a relaxing sauna session! 
Ball-and-socket lumber: 1-3/8″ thick

Any glass features are tempered 

Stainless steel bands, hinges, heater, and fasteners

Interior LED light

Western cedar heater guard

Weather-resistant plastic support cradles

Two opposite-facing benches for sitting or reclining

Two exterior-facing benches

Indoor or outdoor usage

Hand-crafted lumber profiles and wall sections

Best-in-class electric heater & sauna stones

Limited lifetime warranty on the sauna room; five years on the heater

Made in the USA

Holds two people

Heater size: 4.5kW, 220V, 30-amp electrical requirement, hardwire connect

Lighting electrical: 110V, 15-amp service, plug-in connect

Assembled size: 72″W x 60″D x 77″H

Interior room size: 71″W x 39″D x 71″H

Interior bench dimensions: 18″W x 39″L x 17″H

Canopy porch size: 71″W x 12″D x 71″H

Exterior dench dimensions: 18″W x 12″L x 25″H

Shipping weight: 650 lbs

Shipping size: 74″ L x 41″ W x 52″ H

Note: All dimensions are approximate
FEELING LOST TRYING TO FIND THE PERFECT SAUNA?
Answer a few questions and let our quiz guide you to the perfect sauna for your needs.