Thermory 4 Person Barrel Sauna No 60 DIY Kit with Porch and Window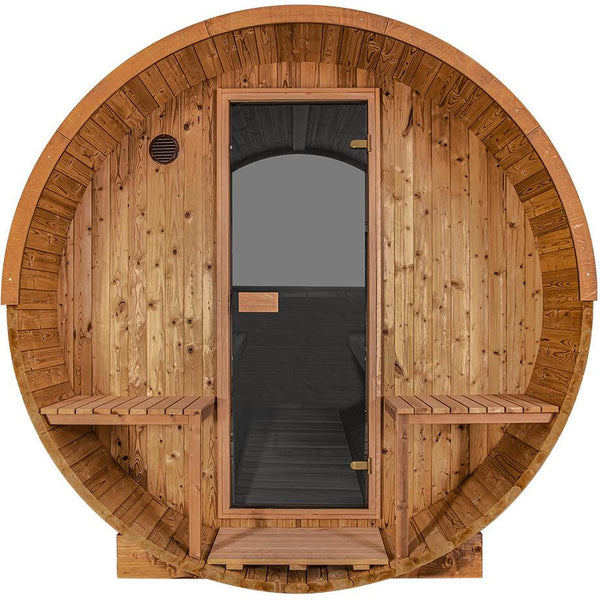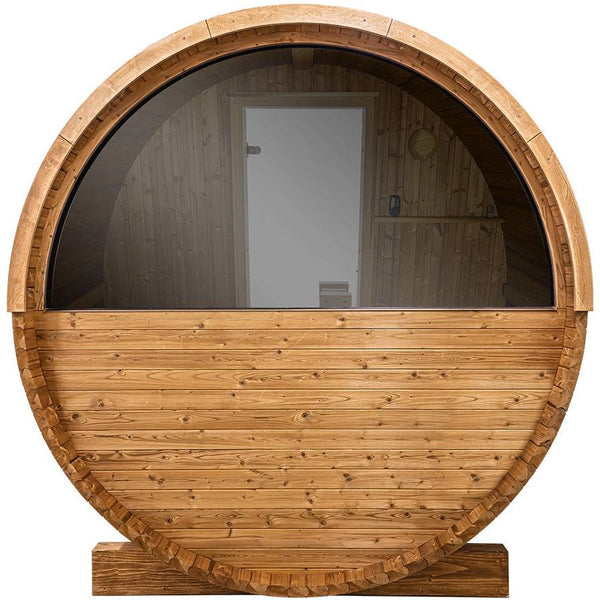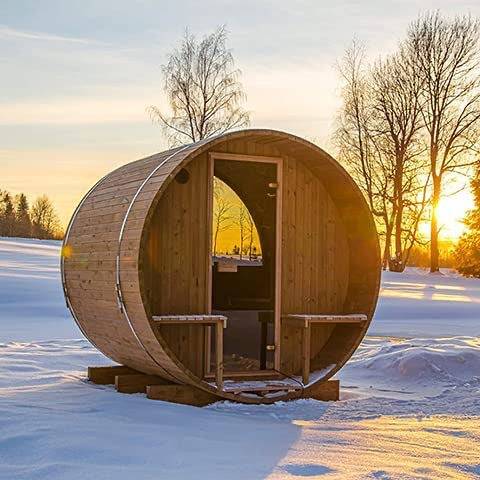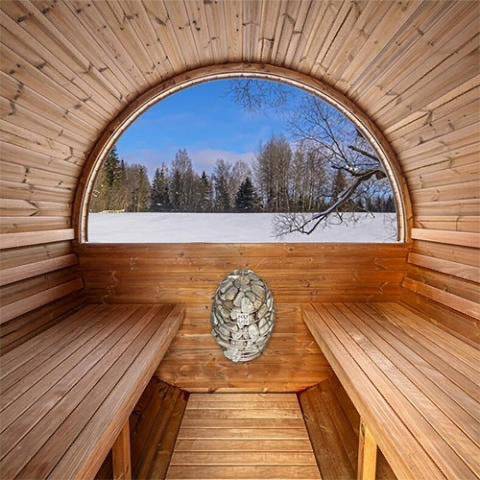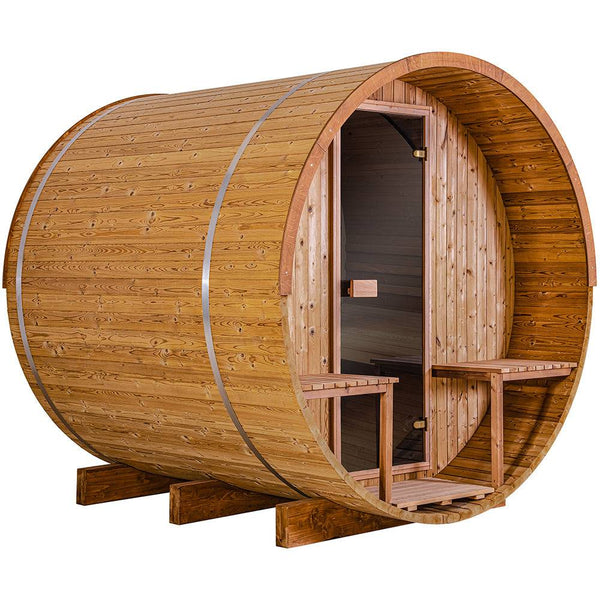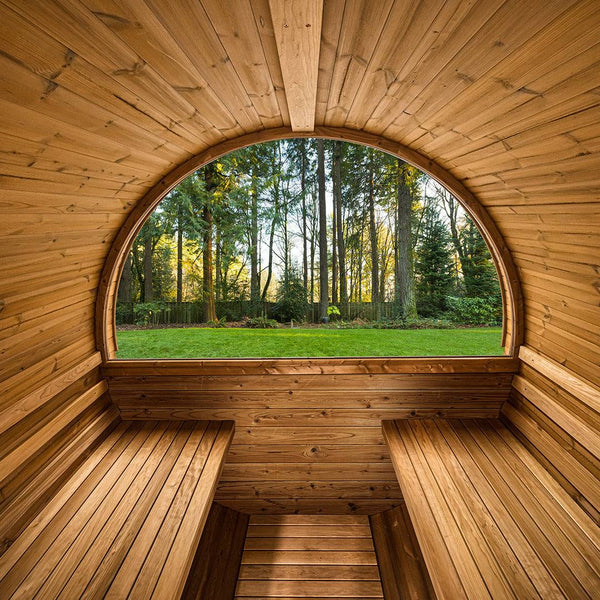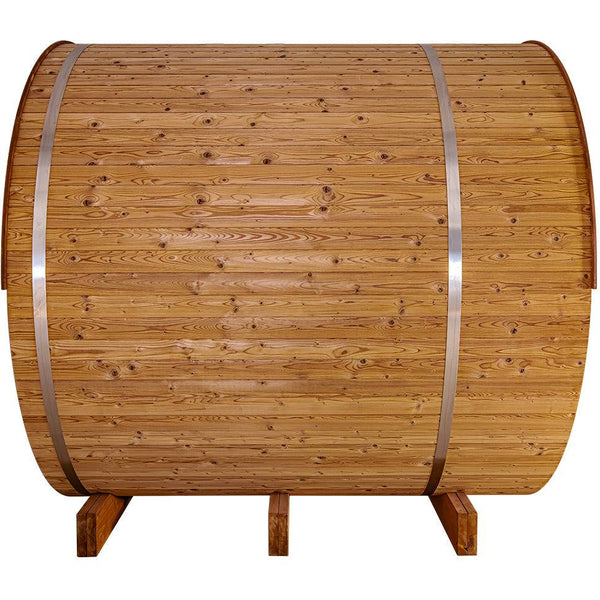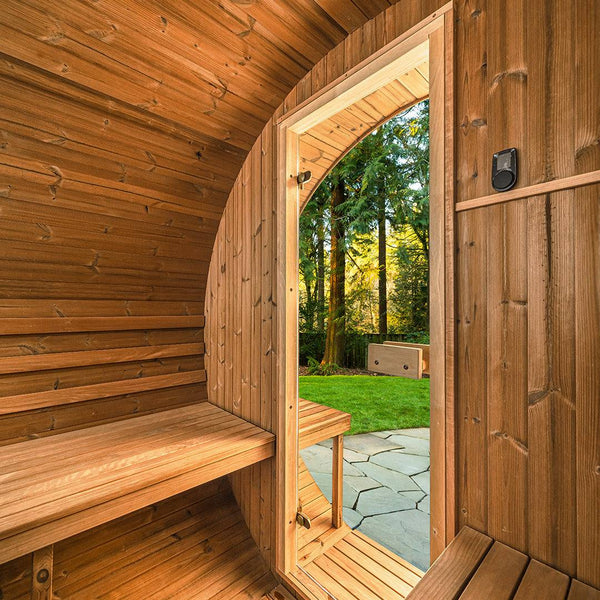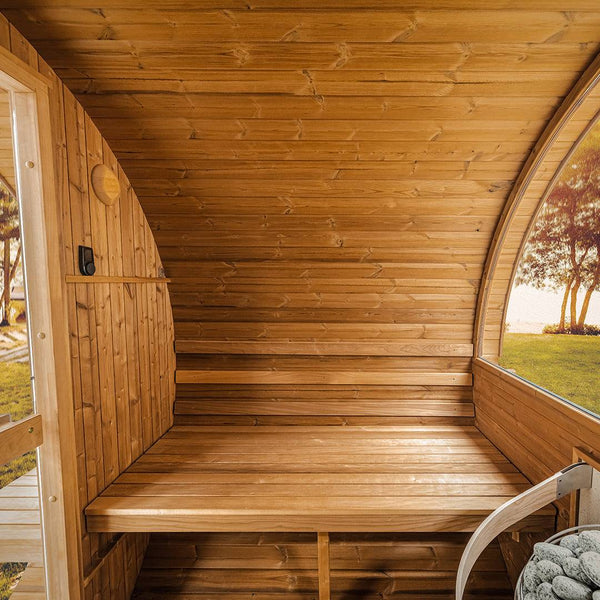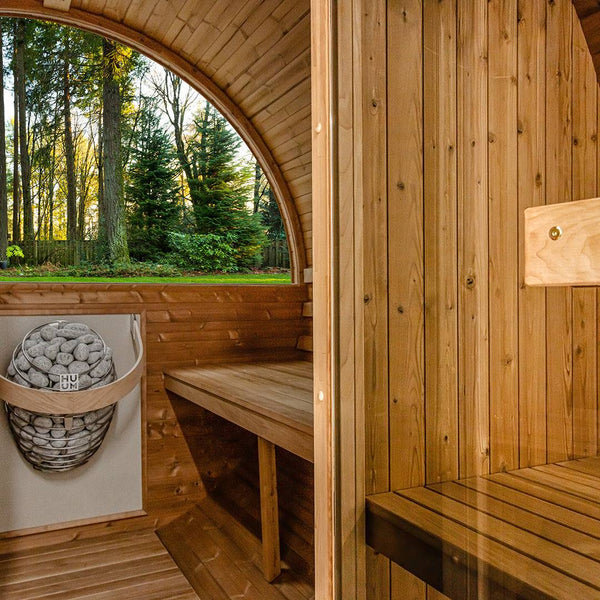 4-person, 7' diameter and 5' deep interior with an Exterior Porch and Panoramic Window is a premium-quality DIY Barrel Sauna Kit. Tall enough to stand in comfortably, this is the largest, most spacious barrel sauna available. Natural light from the glass door and panoramic window illuminates this beautiful space. Includes a front porch with comfortable benches for added convenience. Quality materials and superb engineering make this the very best outdoor sauna. Sauna heater not included.
What makes Thermory Barrel Saunas unique? Ours are the only thermally modified barrel saunas in North America. So you get the beauty of real wood, naturally enhanced with only heat and steam for unequaled durability and stability. And it never shrinks—even in changing weather conditions. It's the most ideally suited wood for your sauna experience.
Look inside barrel No 54, click and drag to look around!
Spacious 7' 6" inside diameter and 7' 4" total length
Includes Exterior Porch
Includes Panoramic Window
24-inch-deep Thermo-Aspen benches for your ultimate sauna bathing comfort
Sustainably sourced Northern European spruce features a brushed texture, distinct knots, and consistent heartwood color
Chemical-free thermal modification naturally enhances every board to its core
Unrivaled rot- and moisture-resistance with exceptional stability and durability
Superior insulating properties keep you surrounded with even heat distribution
Intuitively engineered for simple DIY installation

Install in one day with no cutting required
Rain jacket, flooring, and exterior trim package included
4-person sauna with window
215 cu. ft.

Install the sauna heater of your choice - Heater not included 
We look no further than the birthplace of sauna culture for beautiful Nordic softwood to craft your Thermory Barrel Sauna. Unlike cedar, which can become rough and unattractive over time, Thermory Nordic spruce's proven rot resistance and ability to withstand the elements create the perfect marriage between outstanding design and structural integrity. Your Thermory Barrel Sauna comes with our step-by-step installation guide. And there's no cutting necessary, thanks to our pre-cut and pre-milled staves and cradles.
A Thermory Barrel Sauna is a unique space to enjoy on your own or share with others. And once you own one, you'll wonder how you ever got along without it.
Package Contains: Barrel cradles; body staves; wall panels; panoramic window; glass front door; interior benches; backrest staves; duckboard flooring; fasteners; adhesive roof tape; metal bands; porch benches; heat shield; cable raceway; rain jacket with trim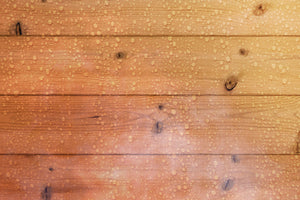 Thermal Modification
Thermal modification preserves the beauty of real wood, enhancing it naturally with only heat and steam for unequaled durability and stability—even in changing weather conditions. Plus, no hot feet!
All-weather Protection
Your Thermory Barrel Sauna's thermally modified wood is built to withstand the elements for up to 25 years. But if you want to baby this beauty, the rain jacket is included for coverage in wet weather.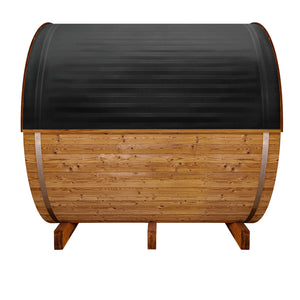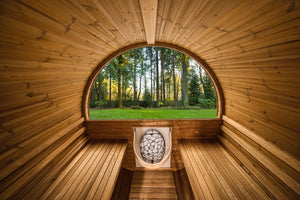 Spacious interior
Boasting an interior of 150 - 250 cubic feet, Thermory Barrel Saunas give you nearly 50% more room than other barrel saunas. And, with two diameters of over six or seven feet respectively, you can make taller friends.

Checkout the optional extra wide window with HUUM Sauna Heater!
Easy Assembly
We pride ourselves on our attention to detail—right down to our installation guide. Your Thermory barrel sauna comes with pre-cut and pre-milled staves and cradles, so there's no cutting necessary. And if you choose an electric heater, you'll need a 240 volt line and an electrician to finish the job.  
FEELING LOST TRYING TO FIND THE PERFECT SAUNA?
Answer a few questions and let our quiz guide you to the perfect sauna for your needs.