Finnish Sauna Builders Flat Bottom Barrel Sauna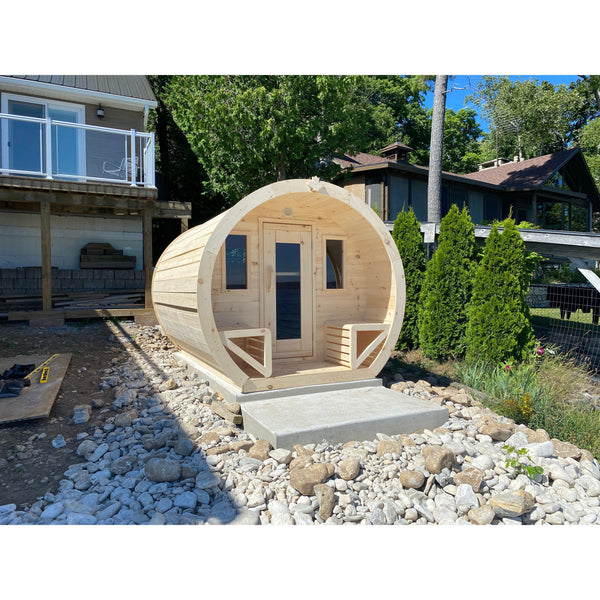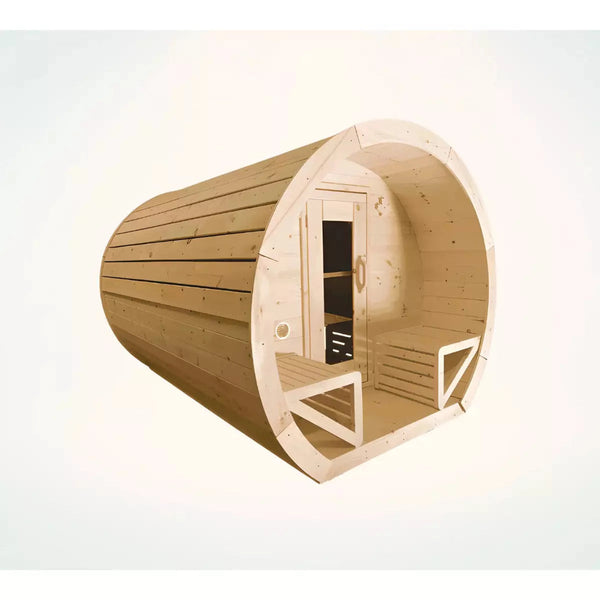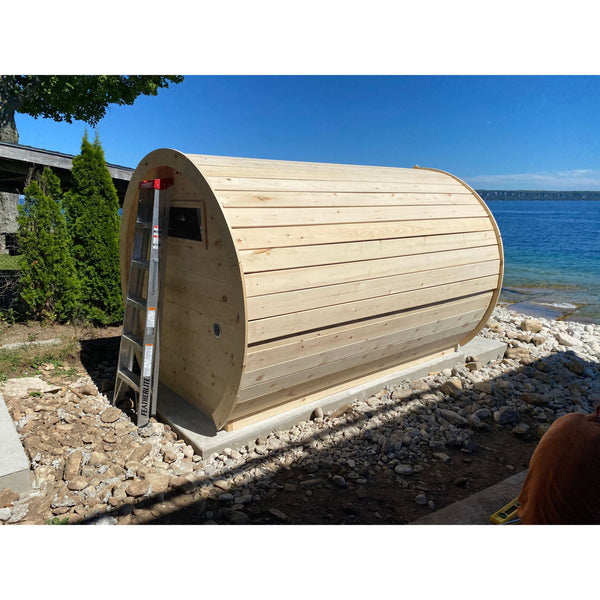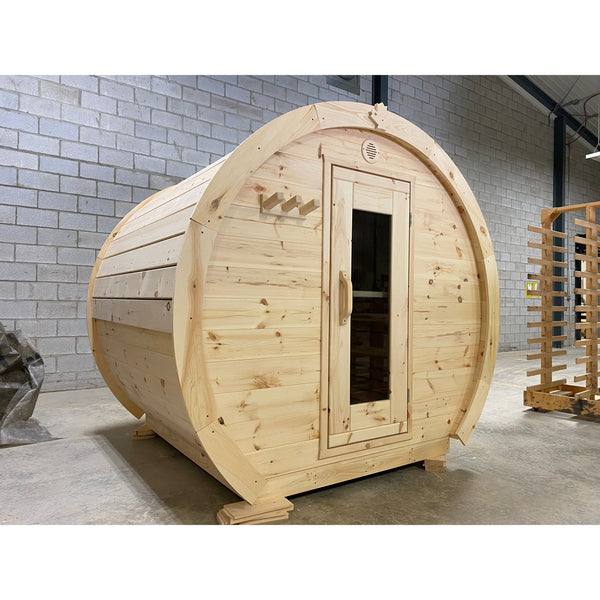 Description
Crafted with excellence and quality in mind, our Flat Bottom Barrel Saunas are a true masterpiece. Each sauna is carefully handcrafted by our team of artisans in Ontario, Canada. Our saunas are a perfect addition to any home or commercial facility, offering a touch of luxury and elegance. With a range of wood types to choose from, such as knotty western red cedar, knotty white cedar, and pine, our saunas are designed to match your home's décor and lifestyle.

Inspired by traditional designs that promote relaxation and well-being, Finnish Sauna Builders' Flat Bottom Barrel Saunas incorporate modern technology to provide innovative features such as adjustable benches, recessed lighting systems, and tempered-glass doors for extra safety. Suitable for indoor or outdoor use, our heaters deliver exceptional performance every time.

Whether you're an athlete or a professional, regular sauna sessions with our Flat Bottom Barrel Saunas offer numerous health benefits to improve your overall well-being. Experience invigorating heat during cold winter months or simply relax after a long day. With up to eight comfortably padded benches offering optimal positioning for maximum comfort, your family can enjoy the ultimate rejuvenation experience in style.


Our Exceptional Flat Bottom Barrel Saunas

Our outdoor saunas are specially designed to withstand any weather and are available in various lengths. Our Flat Bottom Barrel Saunas are fully round-shaped and based on the principle of the traditional Finnish sauna, which promotes sweating to cleanse the body. Heat your sauna with a selection of heaters, including the highly-regarded Finnish Harvia heaters.

Thank you for considering Finnish Sauna Builders for your sauna needs. Please feel free to contact us with any questions or to schedule a consultation.
Heater Options:
Both Wood & Electric heaters can be used!
Wood Options:
Knotty Western Red Cedar




Knotty White Cedar




Pine



Specifications:
Height: 79" (200 cm)




Standard length: 6', 8', 9' & 10' (in inches: 72", 96", 108", and 120")




Standard length porch: 1' (12 inches or 30 cm) or 2' (24 inches or 60 cm)




Premium design with two benches




Porch includes two premium design seats




Duckboard Flooring




Clothes hanger with 3 pegs




Walls are a minimum of 1.55 inches thick.




Flat floors




Door handles (2)




Glass doors



Also Included:
3-peg clothes hanger




Vent kit and cover




Roof membrane




Roof boards




Screws for assembly




Health Benefits of Flat Bottom Barrel Saunas



Flat Bottom Barrel Saunas have been a popular choice for relaxation and enjoyment all around the world for years. Not only do they provide relief from stress and improve mental health, but they are also known to offer numerous physical health benefits. The heat generated inside a Flat Bottom Barrel Sauna can help ease respiratory issues, reduce joint pain, and even improve cardiovascular functioning. Spending time in a sauna can have a positive impact on muscles, relaxing tight muscles and reducing inflammation, which can be beneficial for people who suffer from chronic pain or discomfort.

Flat Bottom Barrel Saunas are an excellent way to promote relaxation, improve overall well-being, and enjoy numerous health benefits. With their unique design and comforting warmth, they provide a tranquil atmosphere where people can unwind and forget their worries. Whether you're looking for a new way to relieve stress or improve your health, a Flat Bottom Barrel Sauna is the way to go!


FEELING LOST TRYING TO FIND THE PERFECT SAUNA?
Answer a few questions and let our quiz guide you to the perfect sauna for your needs.