Almost Heaven Himalaya 4 Person Indoor Sauna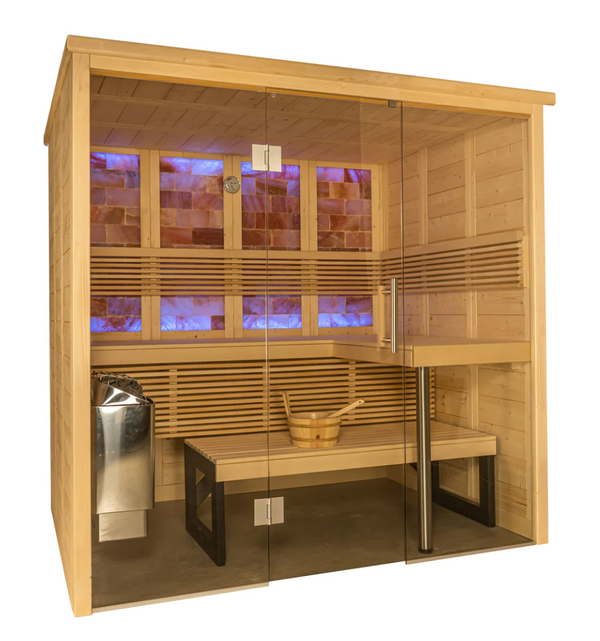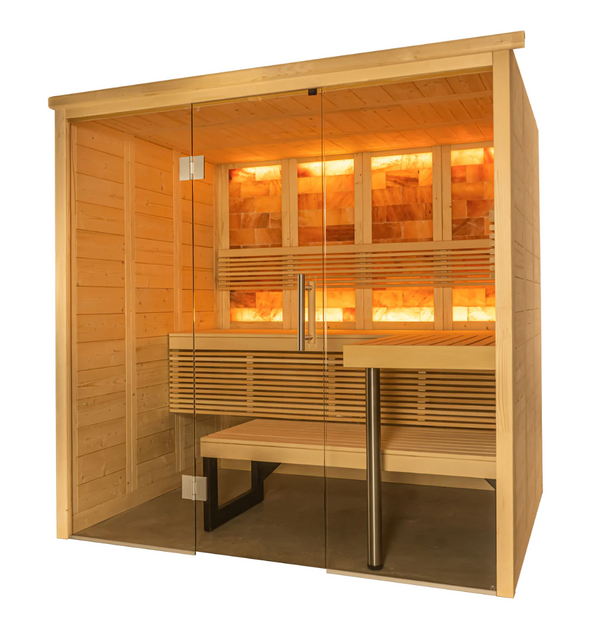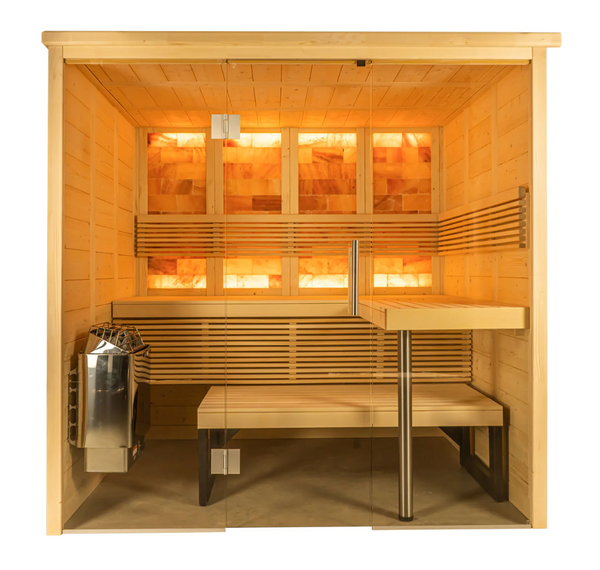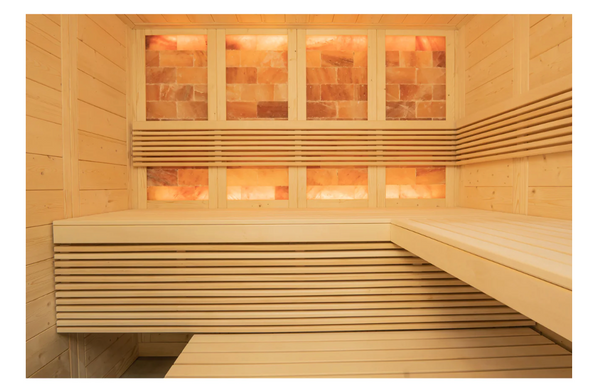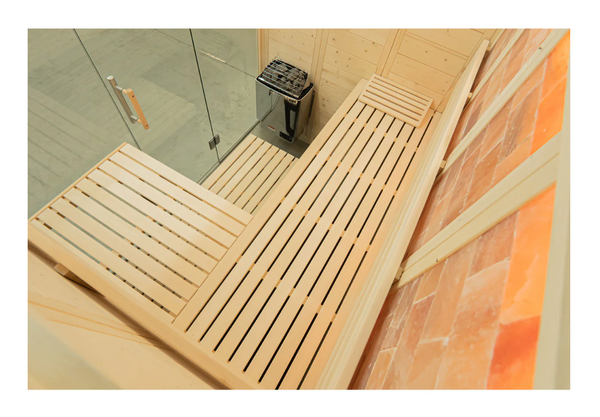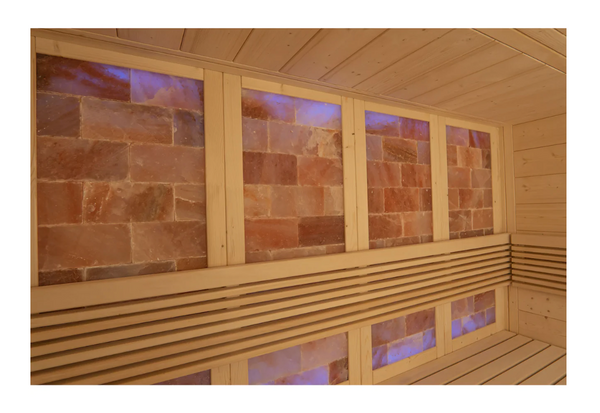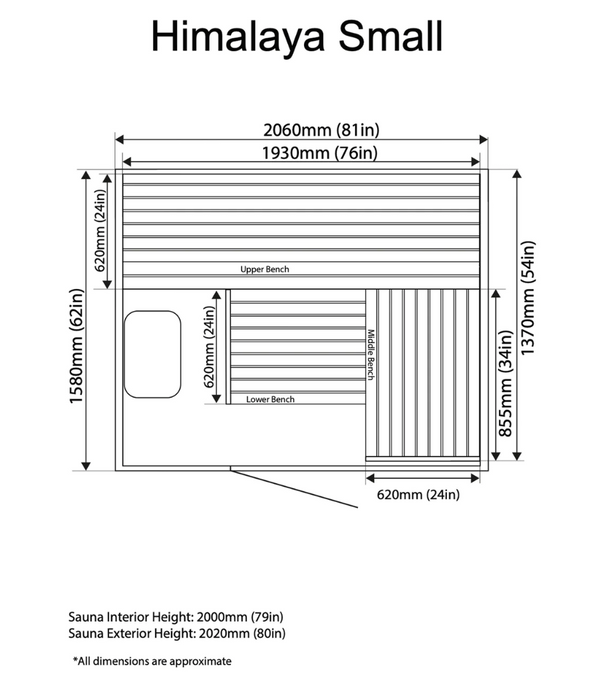 DESCRIPTION:
Experience the ultimate in sauna luxury with the Himalayan Series by Almost Heaven Saunas, where tradition meets innovation to create a truly rejuvenating experience. At FinnishSaunaBuilders, we are passionate about helping you elevate your sauna sessions, and the Himalayan Series is a testament to that commitment. 

Embrace the Benefits of Himalayan Salt Therapy 
Our Himalayan Series is designed to take your sauna experience to the next level by incorporating the therapeutic benefits of Himalayan Salt. Salt therapy enthusiasts often speak of improved respiratory function, enhanced skin hydration, and reduced stress as some of the key advantages. The Himalayan Series features a captivating full wall of Himalayan pink salt, meticulously backlit with customizable lighting options, allowing you to set the mood for your sauna session. Whether you're seeking the restorative effects of salt therapy or simply want to bask in the soothing ambiance of the back-lit salt wall, the Himalaya Sauna experience offers something for everyone. 
The Himalaya 4-Person Indoor Sauna: Comfort and Style Combined 
One of the highlights of our Himalayan Series is the Himalaya 4-person indoor sauna. Crafted with your comfort in mind, it offers multi-level seating with stylish back supports on the upper and lower benches. This versatile sauna accommodates up to four people, and its flexible bench configurations enable you to sit, recline, or lie down in pure relaxation. 
The 6kw heater featured in the Himalaya 4-person indoor sauna delivers exceptional heat, allowing you to revel in sauna temperatures of up to 190°F, ensuring a truly invigorating experience. Constructed from smooth-grain Nordic spruce lumber, its horizontal and vertical board designs not only provide durability but also complement your home decor beautifully. The full-glass front of this sauna creates a spacious and inviting atmosphere, seamlessly blending with any interior design. 
At Finnish Sauna Builders, we are dedicated to assisting you throughout your sauna purchase process. Explore our website for more information on the Himalayan Series and other sauna offerings. We are here to answer any questions, provide expert guidance, and ensure that your sauna investment aligns perfectly with your relaxation and wellness goals. 
Elevate your sauna experience with the Himalayan Series by Almost Heaven Saunas. Discover the harmony of tradition, innovation, and well-being in your own personal sanctuary. 
KEY FEATURES:
High-grade smooth-grain Nordic spruce

 

Tongue-and-groove construction: 1-3/8" finished thickness

 

Horizontal and vertical wood wall sections

 

Stainless steel hinges, heater, and fasteners

 

Pre-assembled wall sections, roof sections, benches, and backrests

 

Utilizes the existing floor. Suitable options include concrete, ceramic, vinyl, laminate, or tile flooring (carpet not recommended)

 

Tempered glass door and windows

 

Built-in vent with sliding cover

 

Himalayan pink salt rear wall

 

Back-lit lighting on the salt wall with multi-color choices

 

Hand-held remote to change lighting functions

 

Upper and lower benches for multi-level seating

 

Indoor usage

 

Full glass front wall

 

Hand-crafted construction

 

Best-in-class 6kw heater & sauna stones

 

Limited lifetime warranty on the sauna room; 5-year limited lifetime warranty on the heater and its components, with a 1-year warranty on the heating elements (coils)

 

Hand-crafted workmanship

 
SPECIFICATIONS:
Seats up to four people

 

Indoor usage

 

Heater size: 6kw, 240V, 30-amp requirement, hard-wire connect

 

Lighting electrical: 110V, 15-amp service, plug-in connect

 

Hand-held remote for lighting operation

 

Exterior dimensions: 81" W x 54" D x 80" H

 

Interior dimensions: 78" W x 51" D x 78" H

 

Lower bench size: 48" L x 24" W x 18" H

 

Upper bench size: 78" L x 24" W x 36" H

 

Upper bench L extension Size: 34" L x 24" W x 36" H

 

1-1/2" thick element wall and roof sections

 

5/16" thick tempered door and window glass

 

Hand crafted construction

 

Door can be assembled to swing right or left

 

Upper bench can be assembled with L on left or right

 

Shipping weight: 1125 lbs

 

Note: All dimensions are approximate

 
FEELING LOST TRYING TO FIND THE PERFECT SAUNA?
Answer a few questions and let our quiz guide you to the perfect sauna for your needs.