Almost Heaven Himalaya 6 Person Indoor Sauna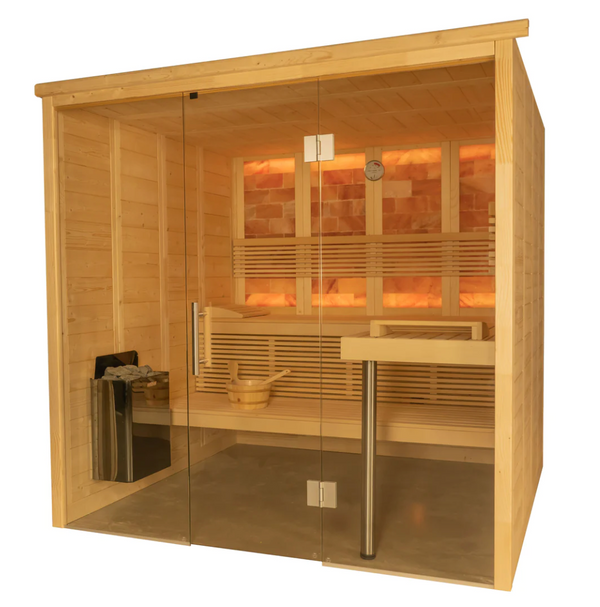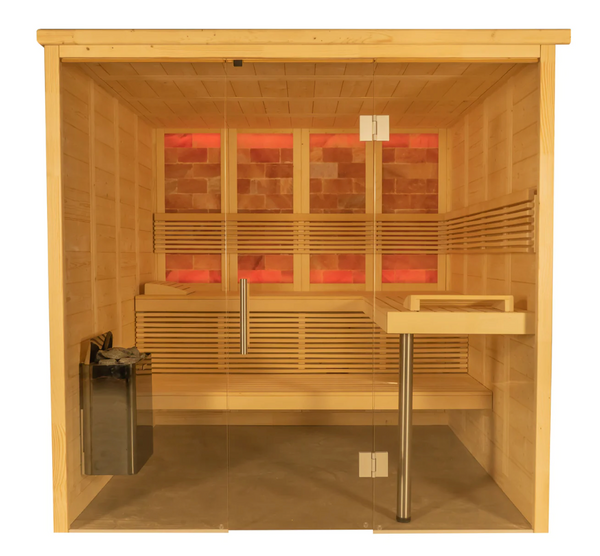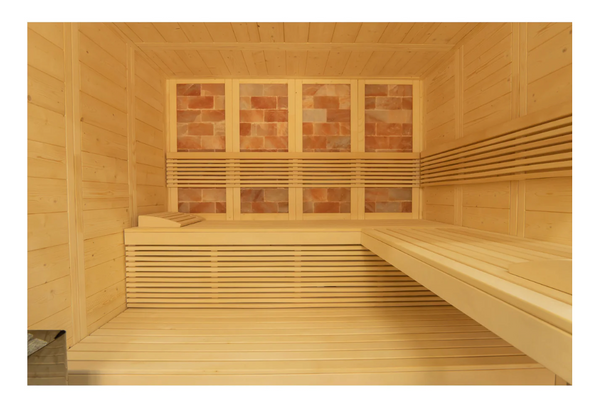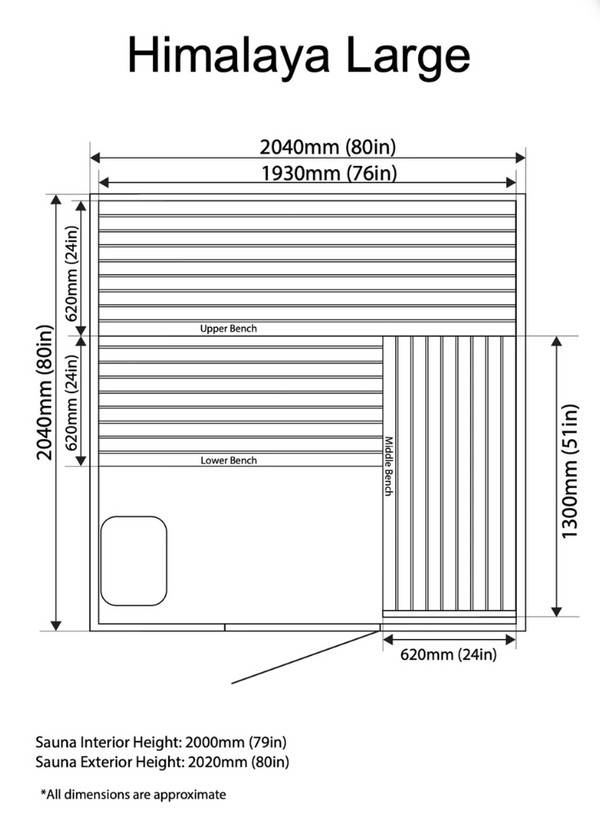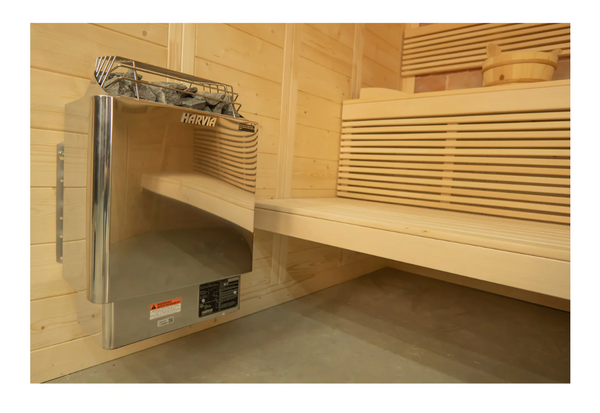 DESCRIPTION:
Experience the pinnacle of sauna luxury with the Himalayan Series, brought to you by Almost Heaven Saunas. At Finnish Sauna Builders, we're dedicated to enhancing your sauna experience and ensuring that you make the most informed choices when selecting your perfect sauna. Let us introduce you to the transformative world of the Himalayan Series. 
Elevating Tradition with Himalayan Salt 
The Himalayan Series redefines the traditional sauna encounter by introducing the healing properties of Himalayan Salt to your sauna sessions. Enthusiasts of salt therapy extol its virtues, claiming that passive exposure to Himalayan salt can significantly improve respiratory function, enhance skin hydration, and alleviate stress, thereby amplifying the already profound benefits of the sauna experience. 
In the Himalaya Series, a captivating full wall of Himalayan pink salt takes center stage, gracefully back-lit with customizable lighting options that allow you to select the perfect ambiance for your sauna session. Whether you're seeking the therapeutic advantages of salt therapy or simply wish to immerse yourself in the tranquil glow of the back-lit salt wall, the Himalaya Sauna experience offers a spectrum of well-being that transcends traditional sauna sessions. 
The Himalaya 6-Person Indoor Sauna: Space and Comfort Redefined 
The Himalaya Series features the Himalaya 6-person indoor sauna, a spacious retreat designed with your comfort in mind. Its multi-level seating includes stylish back supports on both upper and lower benches, ensuring your relaxation is paramount. With room for up to six individuals, the versatile bench configurations let you and your guests sit, recline, or fully recline in luxurious comfort. 
The 8kw heater in the Himalaya 6-person indoor sauna generates exceptional heat, permitting you to indulge in sauna temperatures of up to 190°F, providing an exhilarating and restorative experience. Crafted from smooth-grain Nordic spruce lumber, this sauna showcases horizontal and vertical board designs that not only offer sturdiness but also harmonize beautifully with your home decor. The full-glass front wall adds to the spacious ambiance, creating an extraordinary and stylish addition to your space. 
When exploring the Himalayan Series and other sauna options, Finnish Sauna Builders is your trusted partner. Visit our website to discover more about the Himalayan Series and how we can assist you throughout your sauna purchase process. Our team is committed to answering your inquiries, providing expert guidance, and ensuring that your sauna selection aligns seamlessly with your relaxation and wellness objectives. 
Elevate your sauna journey with the Himalayan Series by Almost Heaven Saunas. Experience the fusion of tradition, innovation, and rejuvenation in your very own sanctuary.  
KEY FEATURES:
High-grade smooth-grain Nordic spruce

 

Tongue-and-groove construction: 1-3/8" finished thickness

 

Horizontal and vertical wood wall sections

 

Stainless steel hinges, heater, and fasteners

 

Pre-assembled wall sections, roof sections, benches, and backrests

 

Utilizes the existing floor. Suitable options include concrete, ceramic, vinyl, laminate, or tile flooring (carpet not recommended)

 

Tempered glass door and windows

 

Built-in vent with sliding cover

 

Himalayan pink salt rear wall

 

Back-lit lighting on the salt wall with multi-color choices

 

Hand-held remote to change lighting functions

 

Three benches with multi-level seating

 

Indoor usage

 

Corner placement design

 

Hand-crafted construction

 

Best-in-class 8kw heater & sauna stones

 

Limited lifetime warranty on the sauna room; 5-year limited lifetime warranty on the heater and its components, with a 1-year warranty on the heating elements (coils)

 

Hand-crafted workmanship

 
SPECIFICATIONS:
Seats up to six people

 

Indoor usage

 

Heater size: 8kw, 240V, 40-amp requirement, hard-wire connect

 

Lighting electrical: 110V, 15-amp service, plug-in connect

 

Hand-held remote for lighting operation

 

Exterior dimensions: 80" W x 80" D x 80" H

 

Interior dimensions: 77" W x 77" D x 78" H

 

Lower bench size: 77" L x 24" W x 18" H

 

Upper bench size: 77" L x 24" W x 36" H

 

Upper bench L extension Size: 51" L x 24" W x 36" H

 

1-1/2" thick element wall and roof sections

 

5/16" thick tempered door and window glass

 

Hand crafted construction

 

Door can be assembled to swing right or left

 

Upper bench can be assembled with L on left or right

 

Shipping weight: 1250 lbs

 

Note: All dimensions are approximate

 
FEELING LOST TRYING TO FIND THE PERFECT SAUNA?
Answer a few questions and let our quiz guide you to the perfect sauna for your needs.