F2 Control: No Timer-use With Time Clock & Fx Contactor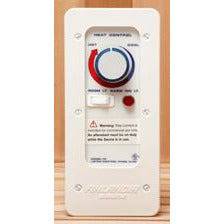 Finlandia Exterior Wall Mounted Controls
F-2 control does not include a 60 min. timer and can be used with a 24 hour time clock. For use with FIN and Club heater models.  Controls must be mounted within 6 feet of the Sauna room.  

F-2, 3 3/4"w x 2 1/2"d x 9 1/4"h.

For use with a separate 24 hour time clock in commercial settings when the Sauna is to be on for an extended time. 
NOTE:  The F-2 control can only be used when an attendant is on duty during hours of operation.
FEELING LOST TRYING TO FIND THE PERFECT SAUNA?
Answer a few questions and let our quiz guide you to the perfect sauna for your needs.