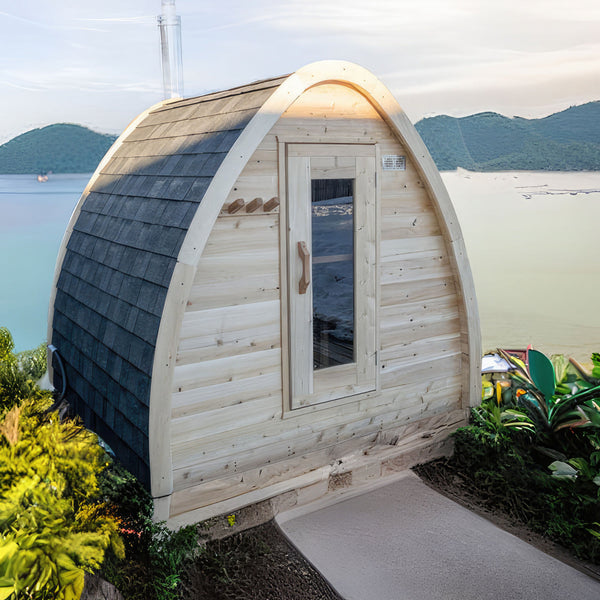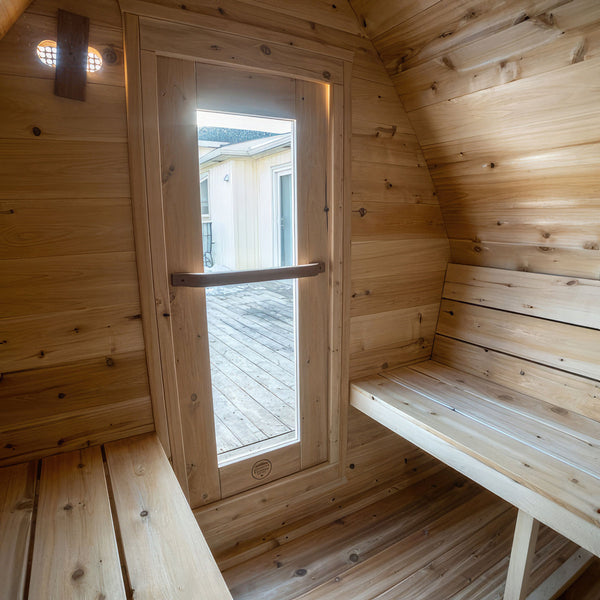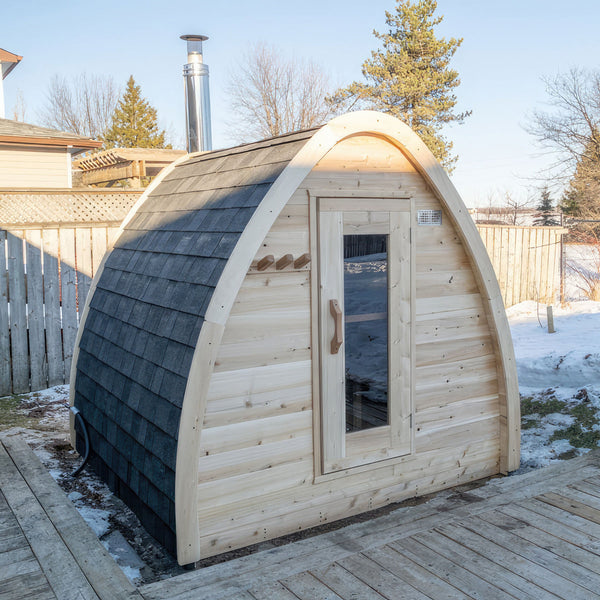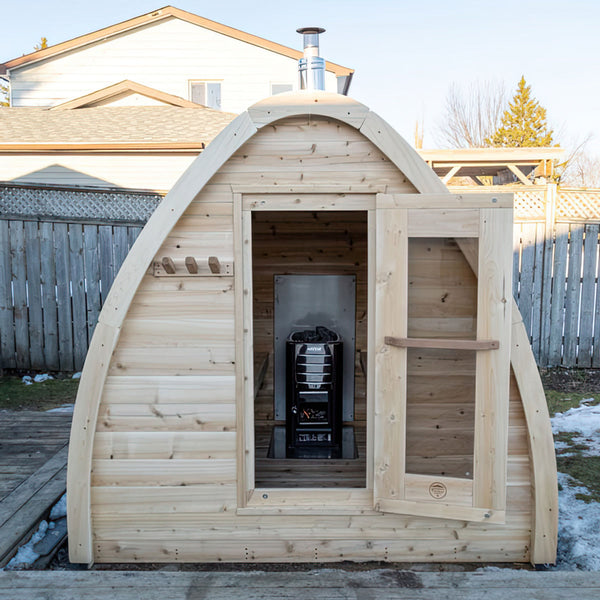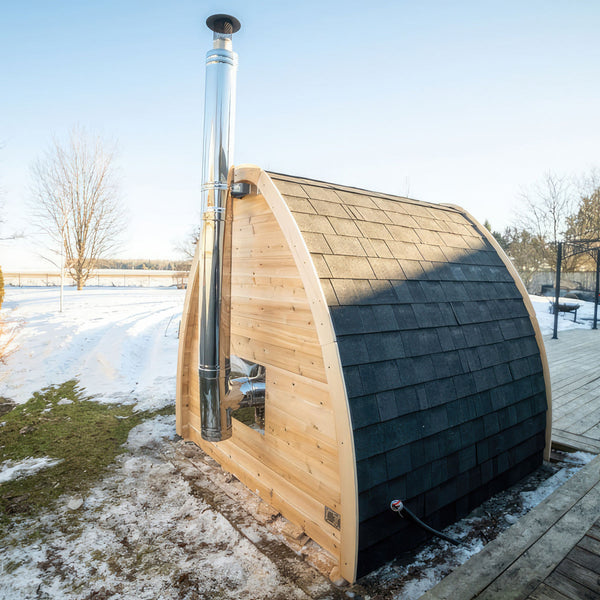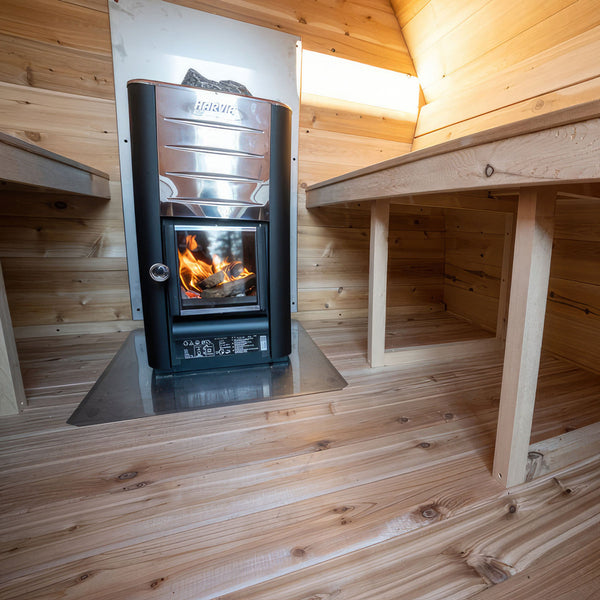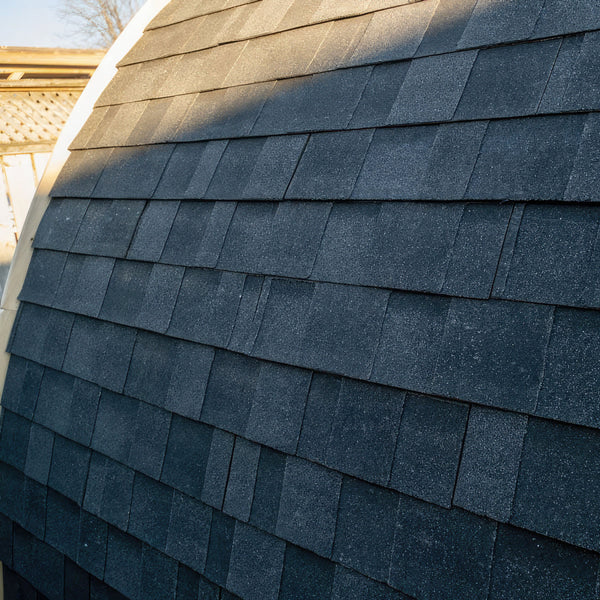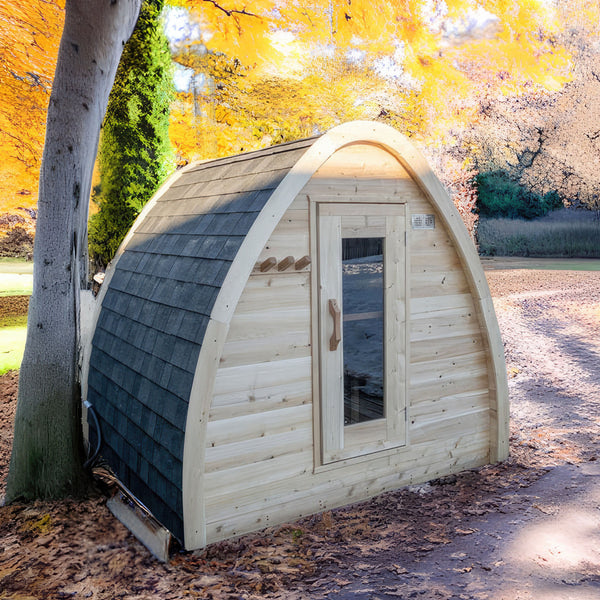 Introducing the CT MiniPOD Sauna
A beautiful and practical addition to any home or cottage, handcrafted with care by Leisurecraft in Canada. This sauna is designed to comfortably fit up to four people sitting up or two people laying down, making it perfect for small groups or families. The side wall benches provide ample seating space and allow for easy access in and out of the sauna.

The MiniPOD Sauna is handcrafted with Eastern White Cedar lumber that is 1.5" (35mm) thick and select tight knot grade. This eco-friendly and sustainable-sourced wood is known for its unique appearance, lighter color, and tight knots, giving the sauna a rustic charm that will fit perfectly in any outdoor setting.

The sauna features a large tempered glass window on the door, providing natural light and a beautiful view of the surroundings while maintaining privacy. The outside walls are protected with black asphalt shingles, ensuring added durability and protection against the elements.

The MiniPOD Sauna comes in an easy-to-assemble kit form and is available with either a wood-burning or electric sauna heater, making it a convenient and practical choice for anyone looking to experience the benefits of sauna therapy.

The CT MiniPOD Sauna is a high-quality and well-crafted sauna made with premium materials and designed to provide comfort, relaxation, and beauty. The easy assembly process ensures that you can enjoy it in no time. Whether you're looking to improve your overall well-being or simply relax and unwind after a long day, the MiniPOD Sauna is the perfect solution for you.

Experience the benefits of sauna therapy with the CT MiniPOD Sauna - a quality solution designed for maximum performance, durability, and convenience. Made in Canada by Leisurecraft, you can rest assured that you're getting a product that is built to last and withstand the toughest conditions.
FEELING LOST TRYING TO FIND THE PERFECT SAUNA?
Answer a few questions and let our quiz guide you to the perfect sauna for your needs.