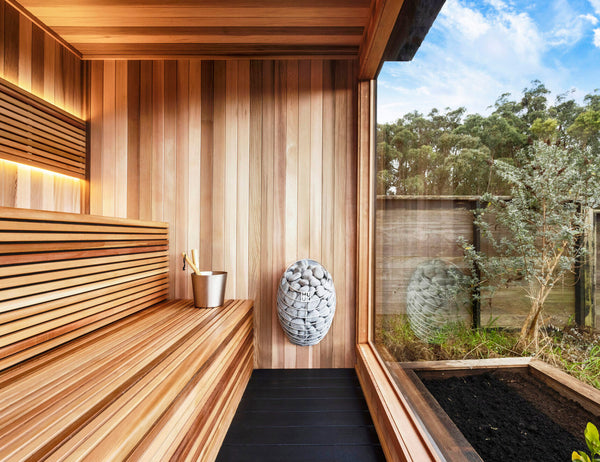 HUUM Drop (106-530CF)
Discover the Beauty of Nature-inspired HUUM Drop Sauna Heaters

HUUM sauna heaters are designed to celebrate the natural beauty of sauna stones with their rustic yet elegant Nordic design. Our sauna heaters are inspired by the organic shapes and forms found in nature, and are developed with sustainability in mind to ensure durability and efficient use of materials.

Our commitment to environmental friendliness and sustainability certifications can be seen in everything from our product development process to our packaging and publications. Not only do we strive to provide a beautiful and relaxing sauna experience, but also a responsible and eco-friendly one.

One of our most popular models is the DROP electric sauna heater, inspired by the purest element in nature - a water droplet. Its sleek and rounded design adds a touch of elegance to any sauna interior. This compact wall-mounted sauna heater can hold up to 55 kg of sauna stones, providing long-lasting steam that surpasses many traditional wood-burning stoves.

The DROP sauna heater offers a choice of control panels that suit the interior design of your sauna including GLASS, CLASSIC, or WOOD. The UKU control system set already includes a black plastic control panel CLASSIC Black. Add a control to your heater, at the time of purchase, and don't forget to select WiFi if you'd like it! To complement the design and add safety, we also offer a safety railing with wooden arches.

For those who want to embed the heater into the sauna bench, we offer an embedding flange to cover the cut rims of the opening. When the heater is embedded, at least 550 mm of the heater should protrude from the sauna bench surface.

Experience the beauty of nature-inspired HUUM sauna heaters, and enjoy a relaxing sauna experience that is both elegant and eco-friendly.